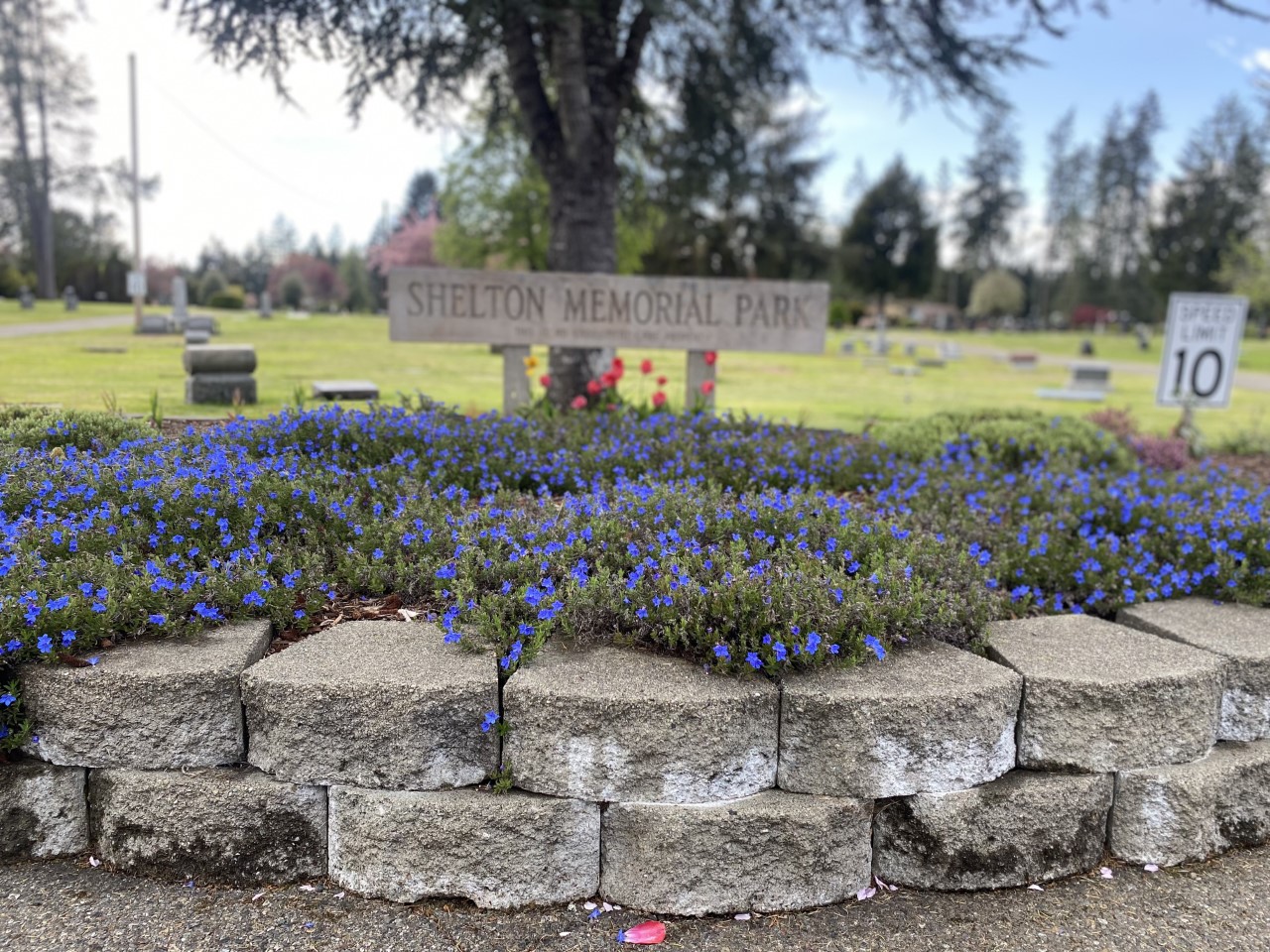 SHELTON MEMORIAL PARK
1605 Van Buren Street, Shelton, WA 98584
(360) 426-2152
Site Mission
This Web site is established to provide General Information, a Directory of Interred, and a Park Map. It was created voluntarily from Public information to support the Cemetery. It is not intended to replace the official primary records of the Shelton Cemetery Association.
History
The following organizations established the original sections of the park: American Legion, & Veterans of Foreign Wars1945, Holy Cross (Catholic) 1890, Independent Order of Odd Fellows, and the Masonic Lodge 1887. The Mason County public section called Mount Hope had its first burial in 1889. Hawthorne Lane was added around 1976. The Shelton Cemetery Association was formed in 1908. The dates are approximate.
Management
Shelton Memorial Park is a non-profit organization managed by Trustees of the Shelton Cemetery Association. The Park is operated by an Office Sales & Service Manager, a Grounds Manager, and a Park Attendant. All are available for assistance as needed.
Available Products
Burial and Cremation Lots, Memorial Markers, Liners, Vaults, Columbariums, and Inscriptions are a primary source of income to help cover costs of operation. These items are competitively priced. See the Products & Services section for Detail and Price Lists. If interested, call the office at 360-426-2152, or send an E-Mail to smp@cemetery.comcastbiz.net.
Memorial Donations
Ongoing income for operation and maintenance is often marginal, so donations are very helpful, and gratefully accepted. Setting aside a portion of one's estate as an endowment in their will is also a practical way to donate. For tax purposes, Shelton Memorial Park is a 501(c)(13) Non-Profit organization.
Onsite Information Kiosk
An automated information terminal with a Directory of Interred, and Park Maps, is located outside of the main office, and another is located on the North side of the maintenance office.
Hours of Operation
Cemetery Gates 8:30 AM to 4:30 PM Monday – Friday.
Cemetery Gates Saturday – Sunday: April to September 9:00 AM to 8:00 PM.
Cemetery Gates Saturday – Sunday: October to March 9:00 AM to 4:30PM.
Office Hours/ Appointments 10:00 AM to 3:00 PM Monday – Friday.
Office Saturday by appointment only.
Corrections or Comments relative to the content of this site may be directed to the office at: smp@cemetery.comcastbiz.net